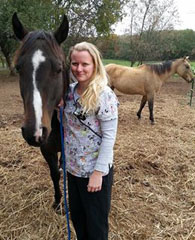 Certified Veterinary Technician
Pets: 3 horses, 5 cats, 4 heelers, 3 chihuahuas and 1 lab
Year started: 2013
Tracy is now done with her schooling and has passed all of her tests.  She is now a CVT!!

My Family:  Husband, Aaron and son Gabe

What I like most about working here: 
   I really like helping all the animals, especially shelters and rescues & every day is different and exciting. My great co-workers make the days enjoyable.

What I like to do when I am not helping pets and their families:  
I especially enjoy riding and working with horses. Other hobbies include gardening, reading and fishing.