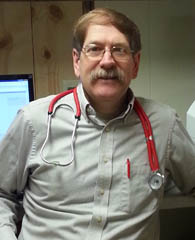 Owner / Veterinarian
Hometown: Oxford, WI
Pets: Dog named Jorg
Year Started:  1987

My Family:  My wife, June, and 7 children.

What I like most about working here: 
I enjoy being part of a family practice started by my father and enjoy caring on the tradition of exceptional animal care.

What I enjoy doing when I am not caring for pets and their families:
  I like working as an EMT on the ambulance at night.  I also love working on my farm, splitting logs and eating pie.