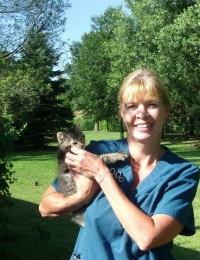 Receptionist
Hometown: Oxford, WI
Pets: Splash- Chihuahua, Jade- greyhound, and Roy- large cat
Year Started:  2004
My pets:  Splash- Chihuahua, Jade- greyhound, and Roy- large cat
My family:  Husband Todd and son Tim
What I like most about working here:
The animals, I like them all.  I also enjoy my co-workers, I am lucky enough to work with some fantastic people.
What I like to do when I am not caring for pets and their families: 
I really look forward to going home to my own pets and family, especially after a challenging day.
As for activities, I enjoy nature, home-improvements, cooking, reading and hanging out with family and friends.