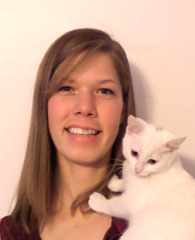 Veterinarian
Education: UW Madison Veterinary School
Hometown: Westfield, WI
Pets: House cat Gracie, 5 friendly barn cats, 2 horses Scarlet & Ribbon
Year started: 2010
My Family: Parents John & Dawn, 4 brothers and 1 sister
What I like most about working here: I get to see tons of adorable animals and interesting cases. I enjoy the fast paced work environment. I am excited to have just finished Vet School at the UW Madison.
What I enjoy doing when I am not caring for pets and their families: I enjoy caring for and playing with my own pets. I love to garden, cooking, art and playing soccer.