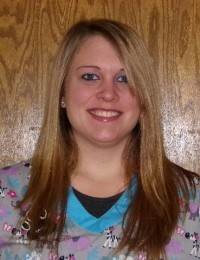 Veterinary Assitant
Pets: Dog: Duke, Cat: Ottis, Horses: Precious and Tanner
Year Started:  2015
Kassie is currently going to school to become a Certified Vet Tech.
What I like most about working here at Adams-Marquette Veterinary Service:
Getting to help all kinds of animals and my co-workers make coming to work everyday fun.
My family: 
Mom, Step dad, Dad, and Step Mom
Sisters: Autumn, Betsy, Belinda, and Stephanie
Brothers: Ethan, and Eric
Things I enjoy doing when I am not caring for Clients and their pets: Horseback riding, camping, swimming, 4-wheeling, snowmobiling, scrapbooking, fishing, hunting, going to rodeos, spending time with family and friends.